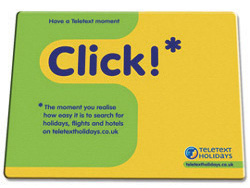 We're offering a great deal in the build-up to Easter by taking 10% off the cost of our rectangular and circular Brite-Mat Mouse Mats.
The popular, colourful and durable product is the perfect way to keep your message on the desks of the people you're trying to communicate with, or simply a great product that customers will want to buy as a souvenir if you include a popular image as the design.
This great deal is valid up to and including Sunday 31st March, so if you place your order on or before that date via this site, you can guarantee these great discount prices, which have already been applied in the price matrix on the respective page.
Rectangular Brite-Mat Mouse Mat
Circular Brite-Mat Mouse Mat
If they don't take your fancy, that's not the only Brite-Mat product we offer; take a look around the site for various other Brite products, including the Brite-Clock, Brite-Dock and Brite-Pad.