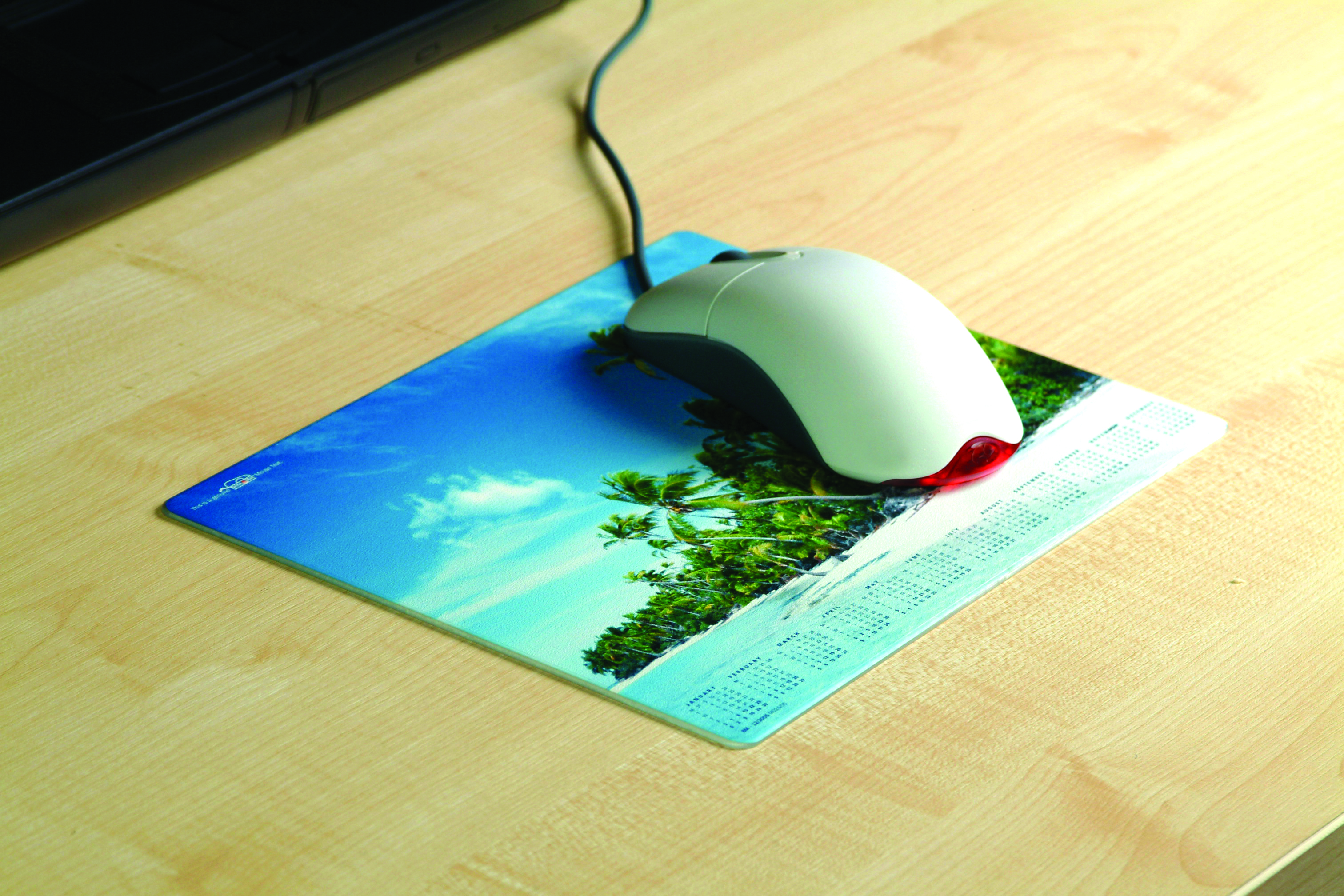 Check the lasting benefits of an eco-friendly, locally manufactured, long lasting desktop advertisement.
Mouse mats are found in offices and homes throughout the UK, many of which are printed with photos or branding.
Printed mouse mats are highly effective at promoting brands to PC and laptop users, both in the workplace and at home. Usually static on a desk, branded mouse mats serve as a constant reminder of that brand to the daily user. When taken to cafes, libraries and co-working spaces, they achieve an even greater reach.
Have you ever considered how much time your potential clients spend using their computer and mouse, whether at home or at work? According to research conducted by Fellowes, 45% of office workers are at their desk for between six and nine hours a day, while for 36% it's four to six hours. In fact, 60% of an office worker's daily sitting time takes place at work. Consider, on top of that, how much time people also spend on their PC or laptop, using their mouse, at home. Overall, this is a lot of time that your potential clients could be looking at your details and message on their branded mouse mat!
The mouse mat isn't a throwaway fad
Bob McDermand of Mousetrak Inc., was credited with the invention of the mouse mat, or mouse pad as he referred to it in the US, in the 1980s. Its purpose was to facilitate the smooth gliding of the PC mouse, and to keep it clean from the accumulation of dust and crumbs that the rubber ball collected from open surfaces and deposited inside the unit.
More than thirty years on, the functionality of the mouse mat is much improved, being optimised for optical laser mice, with specialised coated surfaces to ensure highly accurate optical mouse tracking. As a printed marketing tool, progress has also been significant, with a considerable impact on the business gift market. Like many proven, practical products, mouse mats are here to stay for the foreseeable future, but people just like to jazz them up a bit to bring them into the 21st century!
The benefits of Brite-Mat printed mouse mats
Mouse mats printed with your brand or corporate message have a job to do, and it's not just picking up dust and crumbs! Here are some of the benefits of gifting Brite-Mat printed mouse mats:
• Your client's staff are constantly exposed to your brand or message
• There are endless design possibilities; colours, photos, text, finishes
• The mats are adaptable to any sector
• The large surface area gives you plenty of space for your message
• New messages can be used to suit new campaigns
• Widespread use in offices, homes, libraries, cafes, schools etc.
• Brite-Mat mouse mats are coated for highly accurate optical mouse tracking
• Most of the mats are eco-friendly, being moulded from 100% recycled plastics
• Brite-Mat mouse mats are manufactured in the UK
Photo mouse mats as personal gifts
Printed mousemats are not confined to being used as branded promotional gifts. Photo mouse mats are ideal as personalised photo gifts or souvenirs for the non-corporate gift market in gift shops, at events or for special occasions. They are subject to the same benefits as branded mouse mats and leave a lasting impression.
Get in touch
If you would like further information regarding our Brite-Mat mousemats, please do get in touch by calling 01772 429111 or by completing the contact form on our website.
Follow us on Twitter and Facebook