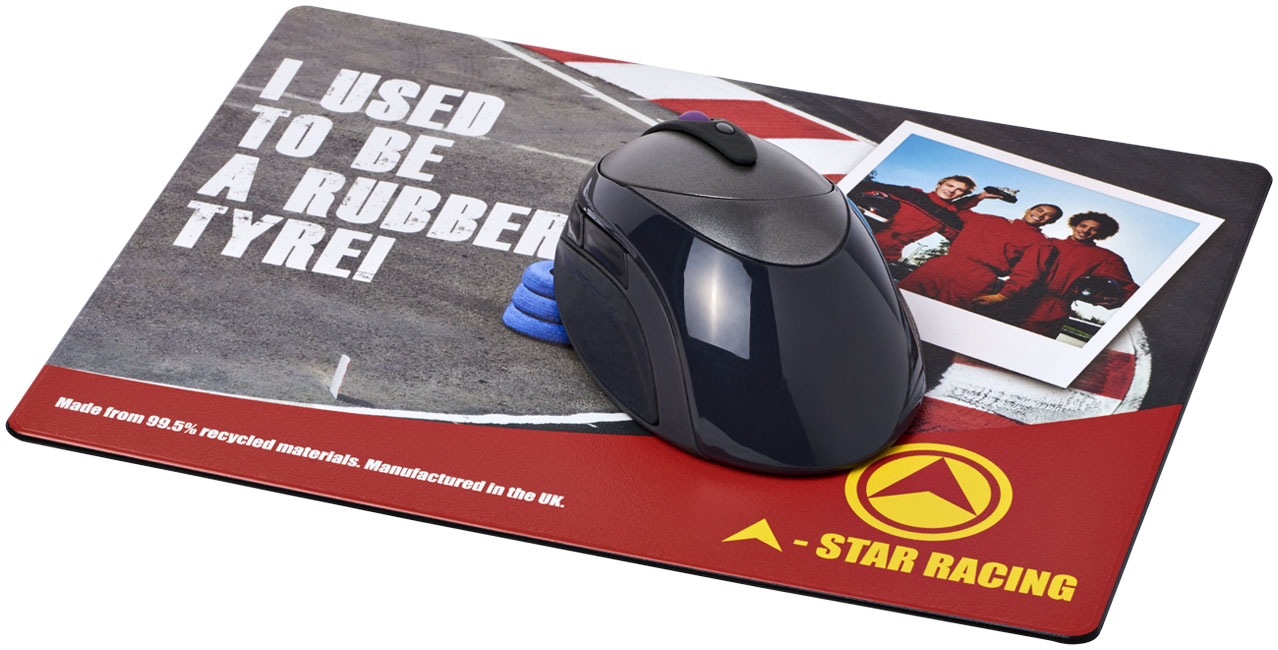 Would You Like Your Full Colour Advert Next To Your Client's PC?
The UK manufactured Brite-Mat Mouse Mat is a well-established and extremely popular desktop promotional tool. Did you know that 88% of people say that they remember a company better if they receive a promotional product from them? We have put together six prime reasons why the Brite-Mat mouse mat is one of the most cost-effective gifts to help your clients remember you.
Repeated Desktop Exposure
Imagine the power of your image, message, brand and contact details being at your customers' fingertips whenever they are sitting at their desk. Your influential advert is there, right next to the computer, where buying decisions are made. That is perfect product placement!
Eco Friendly Mouse Mats
All our Brite-Mats are made primarily from recycled materials. Our standard Brite-mat has a new improved design made from recycled plastics, recycled paper and a special tracking lamination. The Brite-Mat Tyre Mouse Pad is made out of 99.5% recycled materials, including recycled tyres (40%), recycled paper and recycled plastics.
All of our Brite-Mats, and matching coasters, are eco-friendly and are manufactured in a nil-to-landfill, Blackpool factory. You also reduce your carbon footprint by purchasing goods that are made locally and not shipped halfway around the world. Please note that there is now a new dark edged trim which denotes that our standard mouse pads have a 100% recycled composition.
High Quality Reproduction
The patented Brite-Mat manufacturing process encapsulates high quality litho prints into the rigid finished mouse mat. This achieves an amazing quality of clear and sharp images, combining accurate Pantone spot colour matching and vivid full colour images, perfect for making a lasting impression on your prospects.
If you want to make sure that you have a real Brite-Mat, all our products come with the Brite-Mat logo on the back to prove that it is a genuine article.
High Quality & Durable Manufacture
All our recycled mouse-mats have a non-skid backing which minimises movement when moving the mouse. They also have a wipe clean non-reflective face and a specially coated surface, specifically optimised for highly accurate laser mouse tracking. Great for graphics and detailed work.
Brite-Mats are a long life promotion, made of tough rigid material which can last for several years on your customers desks, under normal use.
Cost Effective
Brite-Mat's bespoke mouse pads are a highly cost effective way of getting your advertising message in front of clients. They create a great first impression as a gift which will be kept on the desktops of your customers and prospects' customers for a long time. Our Brite-Mats are available at low unit cost, reducing further with longer print runs. You can add matching coasters too, for a little extra outlay. British Promotional Merchandise Association market research tells us that 80% of people say that they can remember the printed message that was on the promotional item they received.
Stunning Full Colour Print
A picture paints a thousand words they say and our Brite-Mat mouse mat can be as colourful as you like. With near photographic quality printing they have stunning full colour reproduction, maximum impact and a large 240 x 190 mm print area. Please ask our team about your design or you can provide your artwork for us to use.
Get in Touch
Want your own Brite-Mat Mouse Mats? Call us 01772 429111 or send an email to sales@Brite-MatMouseMat.co.uk