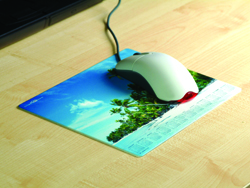 It's bright outside, and you can make it bright inside with a Brite-Mat mouse mat!
Now that the UK appears to have commenced something vaguely akin to summer, everyone wants to head outside, but it's not always possible when the world of work comes calling.
That's why we recommend investing in what Peter Kay might refer to as 'sunshine indoors' - a colourful Brite-Mat mouse mat with a sunny summer scene to keep employees and clients thinking about happy times!
With stunning colour reproduction ensuring that you can create sharp images on your new tough and durable mouse mat, you'll find it almost impossible to find a more attractive alternative anywhere in the world.
Take a look around our site to choose your preferred shape and style, and we'll turn a vision into reality when you submit your payment and artwork.